Lancing Equipment including oxygen lancing sets
Lance-A-Job also supplies lancing equipment including oxygen lancing sets as it is naturally very knowledgeable in the oxygen lancing field. The equipment that Lance-A-Job provides is easy to maintain and assemble. You can use the lancing equipment in a wide range of applications as it is very versatile. In addition the lancing equipment can be used in virtually all positions ranging from vertical to horizontal. The most convenient aspect of Lance-A-Job's lancing equipment is that it does not require the use of electricity. Therefore you can use the lancing equipment in remote sites with little more than oxygen, a vehicle and consumables.
The typical oxygen lancing set consists of the following:
Oxygen Source – either cylinders, mini tank with vaporizer or pipeline.
Oxygen Manifold – used to connect more than one cylinder of oxygen together.
Oxygen Regulator – used to ensure that there is sufficient delivery of cutting oxygen to the lance; it's also used as a safety device.
Wire-Braided Hose – the high pressures used during oxygen lancing as well as the typical lancing environment require hose and fittings to be robust enough to withstand up to 140 bar test pressure.
Ball or Lever Valve – allows you (the operator) to regulate the amount of oxygen that goes through to the lance during start-up and lancing.
Flashback Arrestor – designed to ensure that the flame is extinguished before entering the hose should a flashback occur. This comes complete with a slag trap, thermal cut-off and filter thus ensuring the operator's safety.
Lance Holder – used to secure the lance making it easier for the operator to guide the lance through the lancing process.
Oxygen Lance – available in a variety of sizes in either wire-packed, open or calorised formats.
Personal Protective Equipment (P.P.E) – typically consists of an overall, safety boots, gloves, an apron, a yoke, spats, a flameproof hood, a hard hat with shield, safety goggles and a dust mask or respirator.
Wirepack Oxygen Lance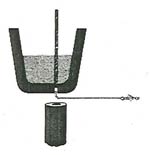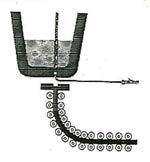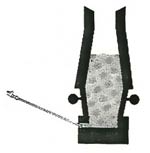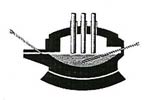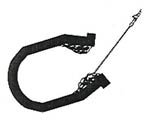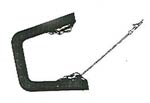 The wirepack oxygen lance features a 3m burning lance, special 3 point crimp, non-waste and a time saving cutting tool – it's cleaned for oxygen use.
Dimensions
Standard lances: 6mm – 8mm – 10mm – 15mm
Average wall thickness: 2,2mm
Standard length: 3,35m
Mass
Standard 3,35mm packed lance
8mm – 3,0kg
10mm – 4,8kg
15mm – 7,4kg
Oxygen consumption
Average for a 3,35mm x 10mm
Packed lance 3,5kg to 4,0kg at 5/6 Bar
Lance-A-Job also manufactures lances that suit all applications. If you require custom made lancing equipment, Lance-A-Job will oblige.
Ball Valves
Steelfire® Ball Valve
| | | |
| --- | --- | --- |
| Ball Valves | 1/2" BSP max pressure 4 000kPA | 098-706 |
| | 3/4" BSP max pressure 4 000kPA | 098-705 |
Thermal Lances
Wire Packed Thermal Lances & Open Thermal Lances
| | | |
| --- | --- | --- |
| 3/8" Wire Packed Thermal Lance | 16mm outside diameter lance used to cut concrete, brass, copper, aluminium, cast iron and steel | 098-726 |
| 3/8" Open Thermal Lance | 16mm outside diameter open lance used in foundries and steel plants to open furnace tap holes | 098-725 |
| (Other lance sizes available) | | |
Heavy Duty Regulators
A multi-stage heavy duty regulator for cylinder use during heavy cutting and lancing
Max inlet pressure
22 000kPa
Outlet pressure
400kPa - 1 800kPa
098-972
Oxygen Steelfire® Single-stage Regulator
A single-stage heavy duty regulator for pipeline use during heavy cutting, scarfing and lancing
Max inlet pressure
2 000kPa
Outlet pressure
50kPa - 800kPa
098-973
Typical Oxygen Thermal Lancing Layout
Lancing Arrangement
1. Oxygen Cylinders
2. Manifold
3. High flow oxygen regulator
4. Flexible braided hose
5. Ball Valve
6. Flashback arrestor
7. Lance holder
8. Oxygen lance

Lance Holders
Lance holder complete with automatic shut-off valve, slag trap and flame filter (Available in 3 sizes)
| | | |
| --- | --- | --- |
| 1/4" Lance Holder | 13.2mm min, 14mm max | 098-682 |
| 3/8" Lance Holder | 16.7mm min, 17.5mm max | 098-683 |
| 1/2" Lance Holder | 21mm min, 21.5mm max | 098-684 |
Flashback arrestors for lance holders
| | | |
| --- | --- | --- |
| 1/2" Flashback Arrestor | 1/2" BSP inlet | 098-686 |
| 3/4" Flashback Arrestor | 3/4" BSP inlet | 098-685 |